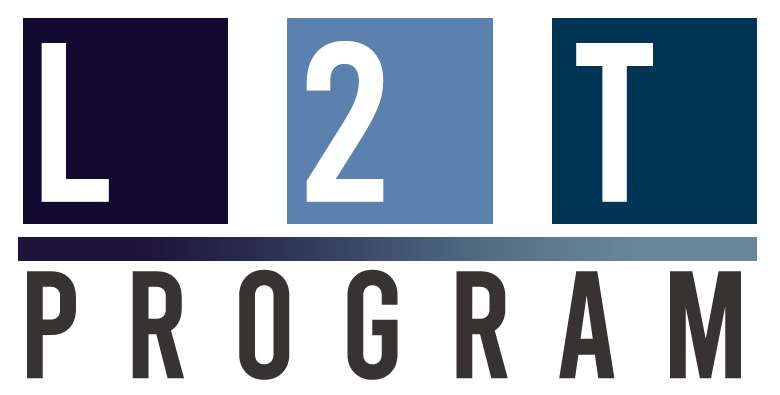 ---
The Learning2Thrive (L2T) Program is a mHealth platform designed to enable refugees to collaborate with local Mental Health Workers to build brief interventions that paraprofessionals or peers can manage and scale to address multiple problems, then delivered to end-users via the L2T smartphone app. 
---
The answers to the following questions explain
The Rationale and Value Propositions of the Learning2Thrive Program
Frequently Asked Questions
What is the Reality of Refugees & Mental Health?
At the end of 2019, the United Nations (UN) Refugee Agency estimated that there were 26 million refugees worldwide—the highest number ever seen.1 This growing exodus of refugees from their home countries is triggered by war, civil unrest, political violence, and other humanitarian crises that fail to realize the human rights of millions of people worldwide. According to the UN Convention Relating to the Status of Refugees, refugees are people forced to flee their home country for fear of persecution based on "race, religion, nationality, membership of a particular social group or political opinion."2
Refugees experience cumulative trauma across their migration journey, including pre-migratory trauma in their home countries, trauma during their journey to safer areas, and post migratory trauma involved in the resettlement process. These experiences may involve exposure to violence, sexual assault or rape, human trafficking, unemployment, loneliness, and limited access to food and/or medical care.3
Do Refugees Access Mental Health Services?
Yet, despite compromises to the mental health of refugees, they rarely access mainstream mental health services (Bartolomei et al., 2016) available to them. Barriers to refugees accessing mental health support are illustrated by Shannon et al. (2016). In their examination of characteristics of successful and unsuccessful refugee mental health referrals, factors for unsuccessful referrals included cultural barriers, for example, lack of adequate acknowledgement and consideration for refugees' beliefs about well-being and mental health, and lack of appropriate adaptation of western approaches to refugee mental health and well-being to the refugee's culture. 
Other barriers included systemic barriers that hinder access and lack of available support, such as long waiting lists or eligibility issues. Language barriers and low use of interpreters were also factors present for unsuccessful referrals. These barriers to refugees' accessing mental health support combined with a lack of understanding of the way in which refugee groups seek help (or lack thereof), a mismatch between needs and resources, hinders refugees' trauma recovery.
What impact are Refugee Mental Health services having?
A 2019 large meta-analysis of research on Mental Health services for refugees by Turrini et al, ended with this observation:
Given the pressing mental health needs of asylum seekers and refugees, and in view of the existing data on the effectiveness of psychosocial interventions, these forms of interventions should be made routinely available to distressed adults and children asylum seekers and refugees resettled in countries irrespective of (high-, middle- and low-) income category… In fact, the feasibility and sustainability of the availability of psychosocial interventions, especially in the long term and especially in LMICs, may be an important challenge. To facilitate availability, brief, basic, group and non-specialist-delivered versions of these evidence-based psychosocial treatments should be considered as an affordable, scalable alternative.
Designing and building a mental health program able to scale its services and sustain itself given limited local resources in a context, demands new design thinking.
What new mental health strategies for refugees are being developed?
Different initiatives to address the technical and adaptive challenges inherent in developing the simple, low-cost interventions noted previously have emerged. WHO has developed Self-Help Plus (SH+). It consists of five lessons delivered through audio recordings and facilitated by local Mental Health Workers (MHWs). To implement its product, WHO developed a partnership with a non-profit named HealthRight International (HRI). HRI describes its mission is "to expand equitable access to quality health systems for marginalized communities".  HRI named its strategy SH+ 360 and states that it uses "multi-sectorial integration as a model for scaling up mental health and psychological support services (MHPSS) program in humanitarian settings."
USAID is funding a non-profit called CETA (Common Elements Treatment Approach) to address global mental health. It does not begin with a "product" per se, though it has evidence-based materials it uses. CETA uses a "common elements approach that addresses multiple behavioral and mental health problems within one multi-layered program, allowing for an effective, individualized system of care that can be implemented by professionals and lay providers".
In Australia, Dr. Rebecca Bartlett has developed Shifra, a comprehensive refugee strategy that includes mental health. Shirfa uses a mental health app for male refugees called New Roots.
What research exists on these approaches?
A 2022 study by Turrini et al titled, "Long-term effectiveness of Self-Help Plus in refugees and asylum seekers resettled in Western Europe: 12-month outcomes of a randomized controlled trial" states that "the present study failed to show any long-term preventative effect of SH + in refugees and asylum seekers resettled in Western European countries.
Analysis of the PP population and of secondary outcomes provided signals of a potential effect of SH + in the long term, which would suggest the value of exploring the effects of booster sessions and strategies to increase SH + adherence.
Can a mHealth strategy bolster Mental health Services to Refugees?
The term "mHealth" refers to "mobile or smartphone" health apps. Following successful research using mHealth strategies with other populations that struggle with mental health, there is a growing interest in the potential for digitizing mental health resources for refugees.  Dr. Tedros Adhanom Ghebreyesus, WHO's Director-General states that,
digital technologies are not ends in themselves; they are vital tools to promote health, keep the world safe, and serve the vulnerable"

 

(WHO, 2019). By perceiving technology as a tool, a facilitator rather than an end, those looking to utilize technology to address refugee mental health are faced with a series of challenging questions to uncover what works, for whom and under what circumstances, and, crucially, when technology is and is not an appropriate tool for meeting peoples' needs
How does the Learning2Thrive mhealth strategy create interventions that foster cohesion and adherance?
The Learning2Thrive (L2T) Program was developed to complement and strengthen other Refugee Mental Health services, whether the service uses a mHealth strategy or not. Refugees use its ARC Process design and build tools to build brief mental health interventions" that paraprofessionals or peers can deliver, manage, and scale to address multiple problems. MHWs work alongside refugees to build these interventions using the ARC Platform and they are delivered to end-users through L2T smartphone app.  
A 2019 WHO report on the mental health of Rohingya refugees living in Bangladesh recommends that mental health programs must stop designing their programs for local refugees and start designing programs with refugees. Making this shift begins with developing strategies to dialogue with refugees that help them identify their values, habits, practices, and priorities so they can design and build a program that responds to their 'know-do" gap as they understand it.  
Creating this dialogue involves learning skills in cultural competency and adult education that are foundational to all initiatives using Implementation Science concepts.
What are L2T's Value Propositions?
 L2T adds value to existing initiatives such SH+ 360 or CETA by: 
1) expanding their access to a variety of culturally appropriate mental health and trauma recovery resources through its digital apothecary,
2) fostering collaboration between refugees and local MHWs to design and build culturally-valid solutions, and
3) strengthening the refugees' knowledge and skills to form sustainable healing communities based on their own help-seeking behaviors and sophistication & habits using technology.
What is L2T's ARC Process & Platform?
Trauma, whether physical or psychological, injures the body's experience of feeling safe; instead, a traumatic experience can threaten its very survival.  It ruptures the developed mental skills to regulate positively the flow of information and energy the body experiences that helps it feel safe.  A key neurological component of developing as well as recovering the ability to regulate this flow is increasing self-awareness through heathy relationships with other people.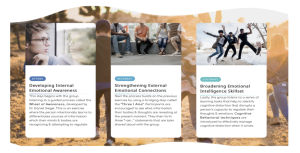 As indicated by the chart above, a person develops interpersonal self-awareness through constant repetition of attuning to, resonating with, then cultivating through relationships these skills. These steps, in effect, describe what a newly-born infant does immediately after birth in order to attach to a caregiver, usually the mother, who reassures the infant that it is safe and will survive.
A small group of individuals, repeating this sequential process over time can transform itself into a "safe" healing community. In effect, this iterative process creates the glue that makes the group's experience "sticky. This stickiness enables the group to transform itself into a "hold environment" that sustains the healing dynamic of "feeling felt/feeling safe" for the group's members. It is the ARC Process that encourages group members to bond with their group and develop greater cohesion for the group experience.  
Intentionally repeating the sequence enables the group to reinforce its "holding environment" every time the group meets. In time, the group's iterative dynamic no longer needs the ongoing presence of an outside mental health expert.
The ARC Platform enables MHWs and refugees to design and build their own interventions that "booster sessions" of other programs.  The Platform's Digital Apothecary consists of 3 libraries of evidence-based exercises that: attune; resonate; and, cultivate positive mental regulation.  MHWs and refugees combine one exercise from each category to create a simple ARC intervention the L2T app delivers to a small group as an audio file.
What is the strategy for building an audience/ getting the word out about L2T?
L2T seeks opportunities for Public Health and Social Work graduate students at the University of North Carolina to intern with organizations like HealthRight International and other mental health organizations.  These internships will give students the opportunity to develop skills as Implementation Science practitioners while working with a cross-cultural population.  At the same time, students can work with these organizations to develop pilot studies testing the L2T concepts, and how to refine its mHealth platform. 
*** PLEASE NOTE: Learning2Thrive's eCourses developed in the Design & Build dashboard are designed for those participants who have been screened.

***
Copyright © • 2021

(Patent Pending)

• L2T Program  • All Rights Reserved