The ARC Digital Apothecary
Multi-lingual Tools
to Build Healing Communities

Multi-lingual Tools to Build Healing Communities
ADAPTIVE LEARNING
TECHNICAL TOOLS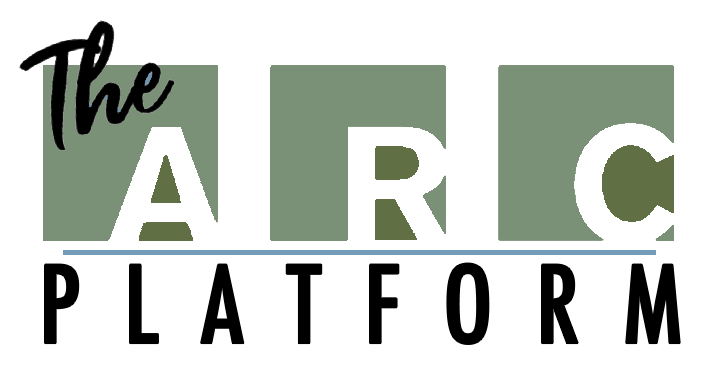 Table of Contents
Slide
Learning Needs and Resources Assessment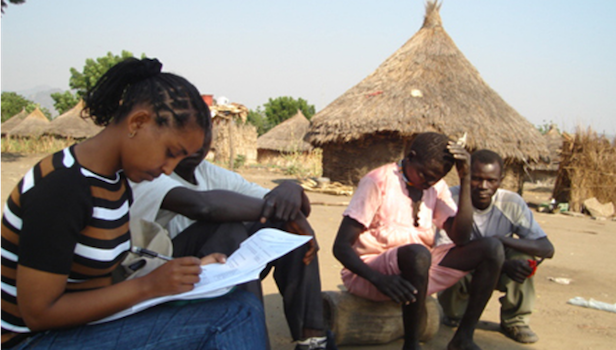 This helps the team identify if the refugees have any traditional, spiritual, or communal practices they already use & if they want to learn new ways to help them recover from their trauma.
Slide
Learning Needs and Resources Assessment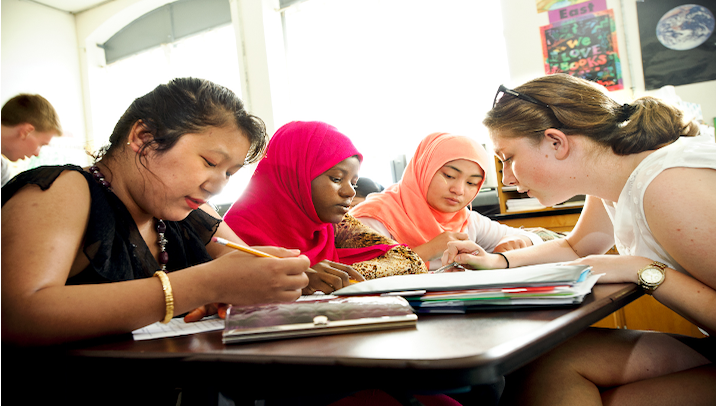 Next refugees are asked what do they want & would need to learn. Research shows that adults who have a role in choosing what they learn, will stay committed & focused as they learn.
Slide
Learning Needs and Resources Assessment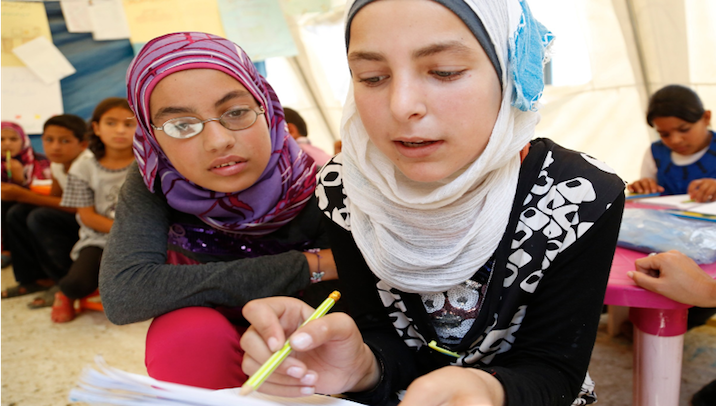 Paolo Freire, a Brazilian educator, argues that adults bring to learning valuable cultural knowledge & experience that forms a foundation on which to begin.
After a comprehensive Learning Needs Assessment is performed, the local Mental Health Worker (MHW) is ready to use the ARC Process tools.
The diagram below shows how the Technical and Adaptive components of The ARC Apothecary fit together to enable a local MHW and a local community to build a mental health program.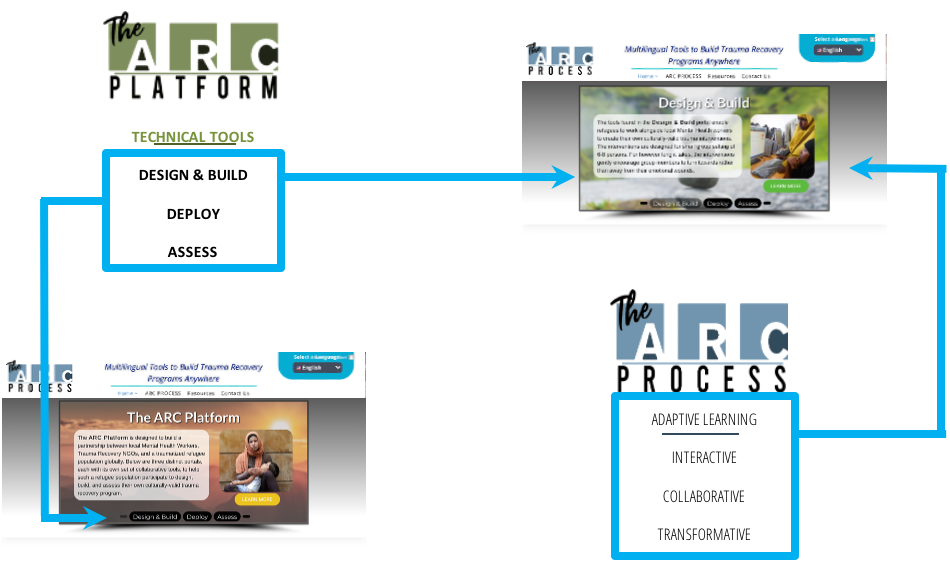 Local Mental Health workers select from a library of evidence-based modules located in The ARC Apothecary.  If there are not ones that are appropriate for their healing needs, they create their own to build a culturally valid and contextually appropriate recovery program they believe will meet their needs. 
The modules are separated into three categories: exercises that help a person mentally Attune to and regulate the sources of information & energy flowing through their bodies in the present moment, exercises that help a person to Resonate and connect with people around them in the present moment.
Finally, those exercises that help a person Cultivate their self-awareness by gaining greater confidence in their ability to stay appropriately present and alert in the present moment.  Self-awareness and presence are the foundation on which a person begins to recover who they are heal their invisible wounds. 
Slide
There are a variety of evidence-based mental health exercises available in the library. These exercises can be directly accessed by mental health workers in PDF/ Word document form.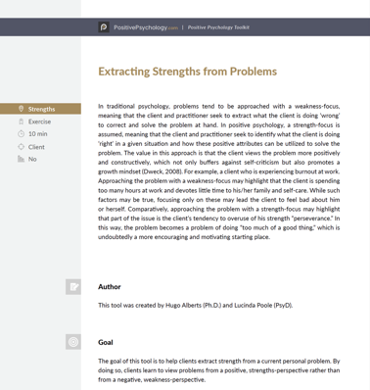 Example of Exercise PDF
*Only Exercises in English are downloaded here for the time being.*
Slide
Exercises can be converted to RTF then inserted into the area on the "Add New Exercise Page". Exercises are designated by:
(1) Topic
(2) Type
(3) Categories
(4) Language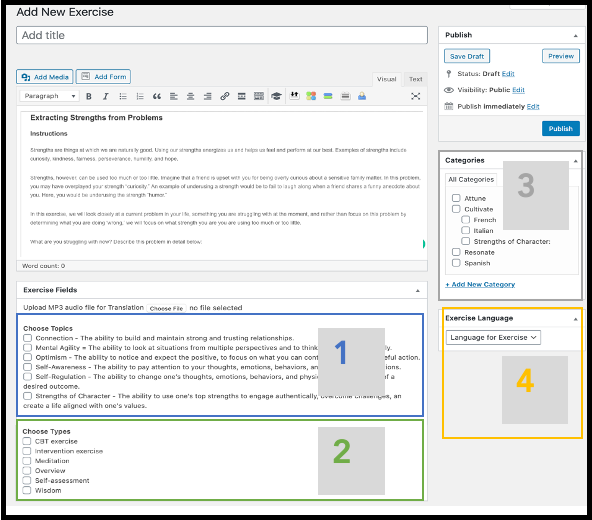 dub
This is the list view of the exercises available in the library. Mental health workers can quickly identify the categories of each exercise.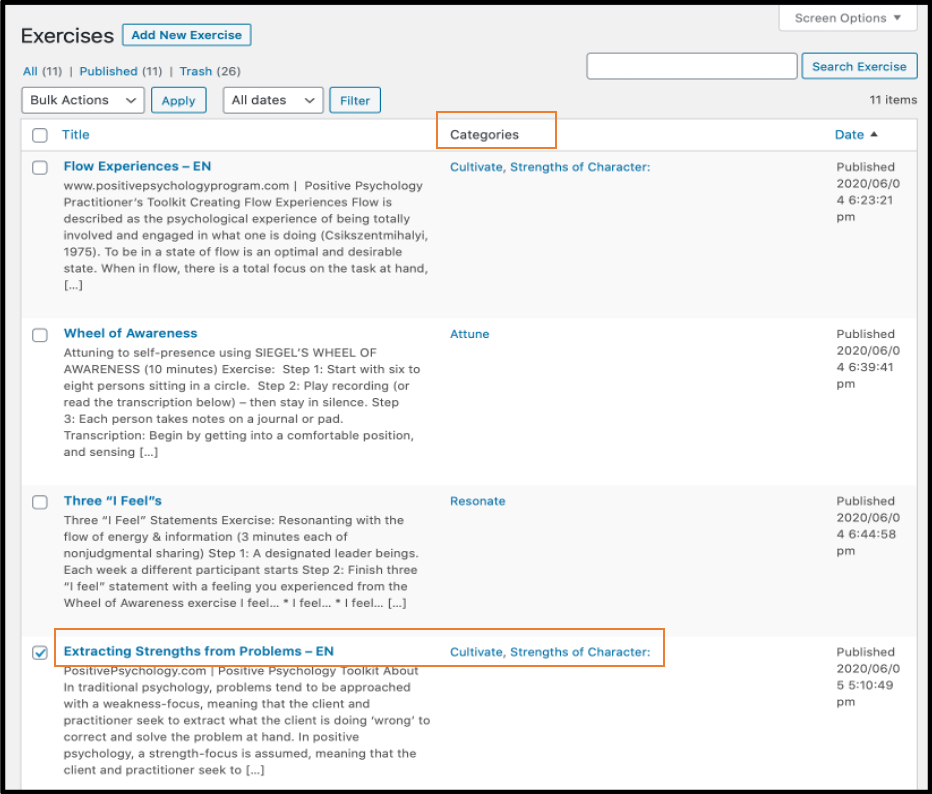 Slide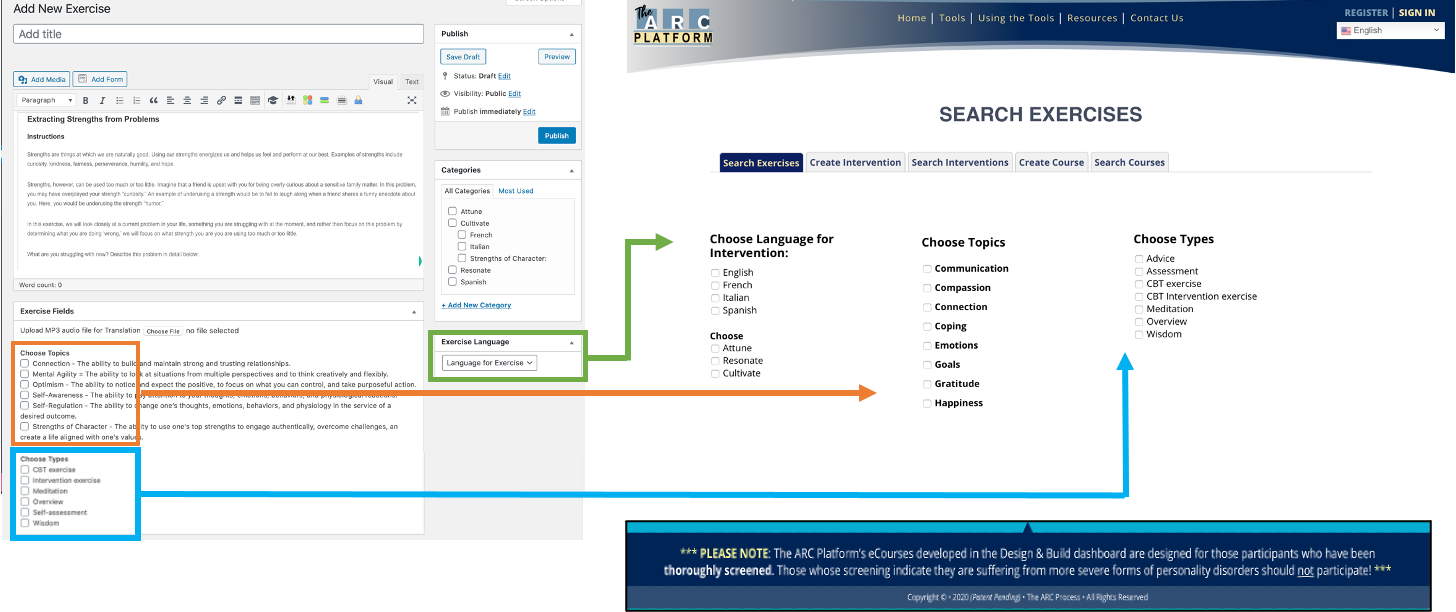 Exercise search results can be filtered by Topic, Type, and Language
dub
1. Click "Translate" from Exercise
2. Edit Translation in Edit Box
3. Add Audio File
4. Save Translation of Exercise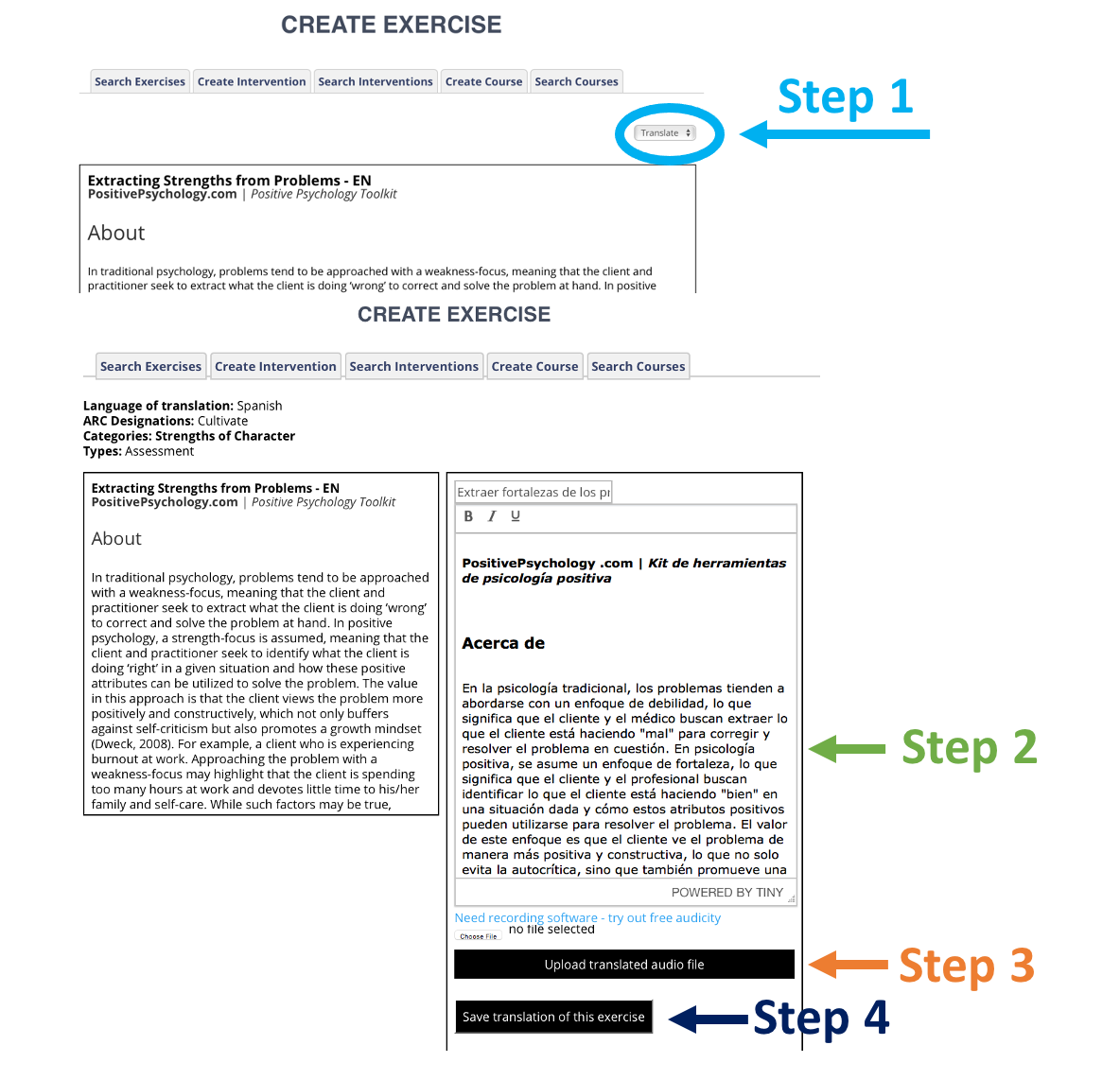 Design & Build Interventions
Slide
1 - Language for the Intervention
2 –Languages the MHW speaks
3 – Name & description
4 – Designate the topic
A - Select a Attune Exercise
R - Select a Resonate Exercise
C - Select a Cultivate Exercise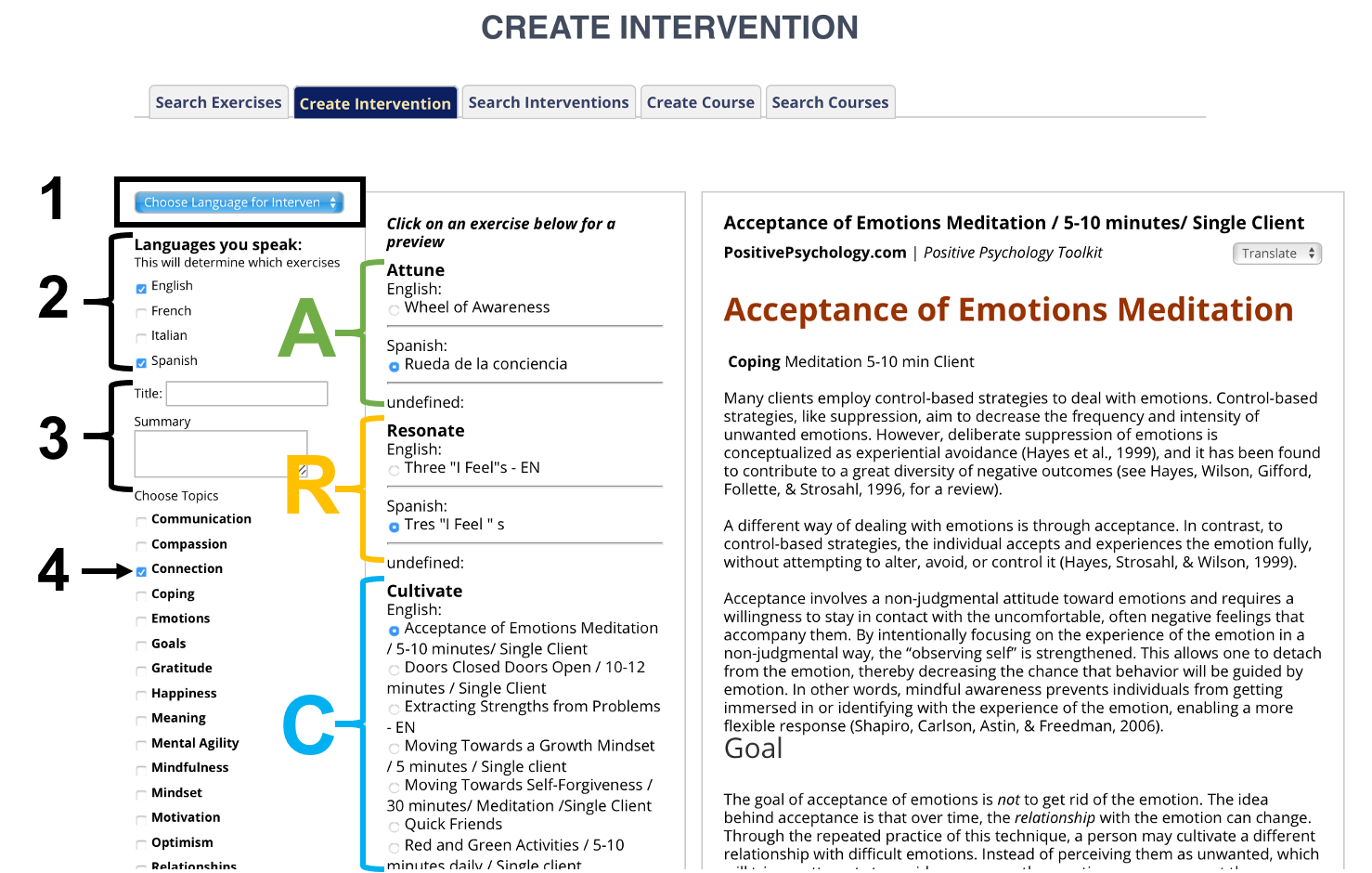 dub
Interventions can be searched by:
1.) Language
2.) Topics
3.)Type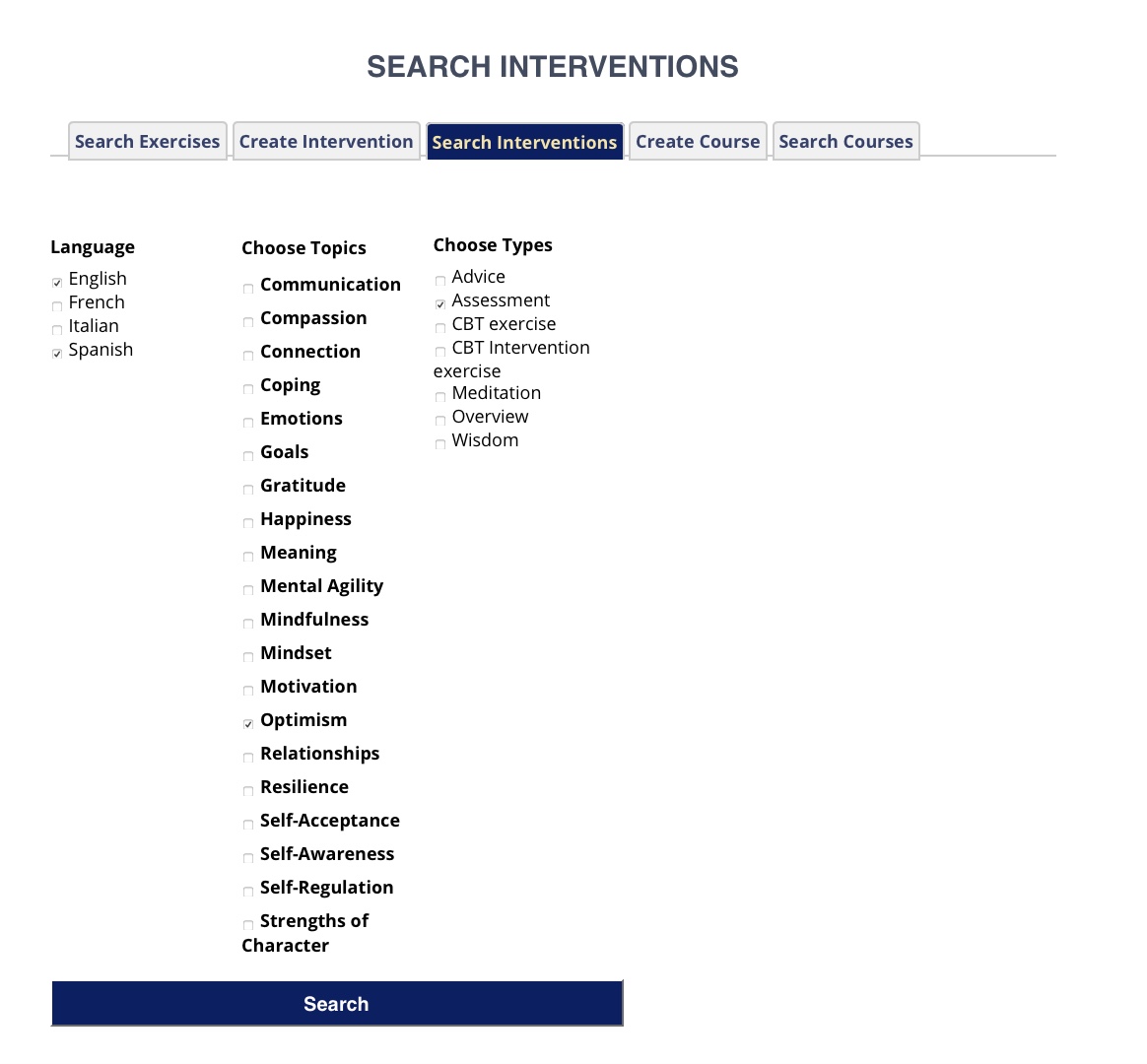 dub
This is an example of an Intervention Search results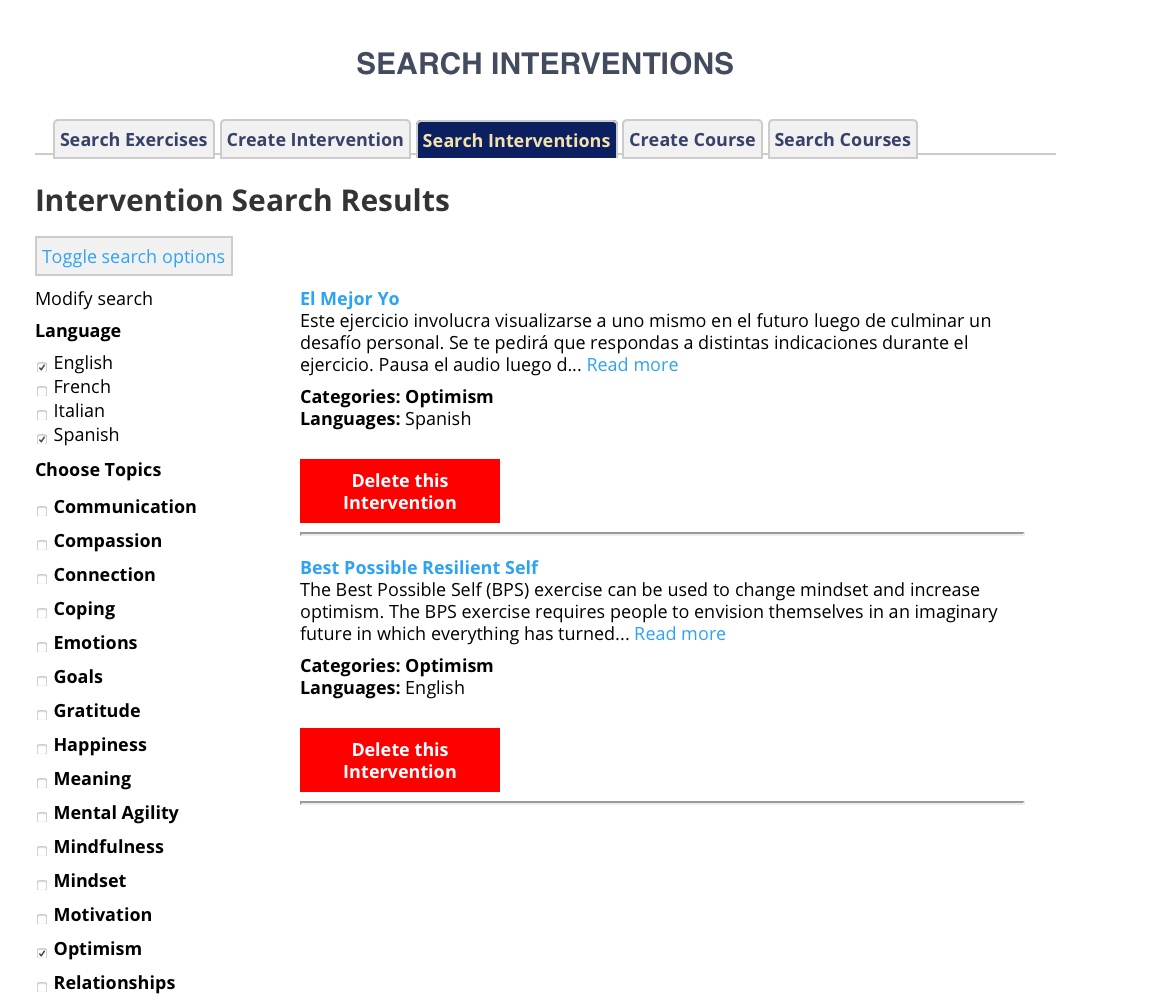 Create Courses & Programs
Slide
Start creating a course by adding a title and summary. Then add interventions by clicking the "Browse Interventions" dropdown.

Slide
Browse through Intervention Topics to view and select interventions. Use the "Add Intervention to Course" button to add interventions to the course.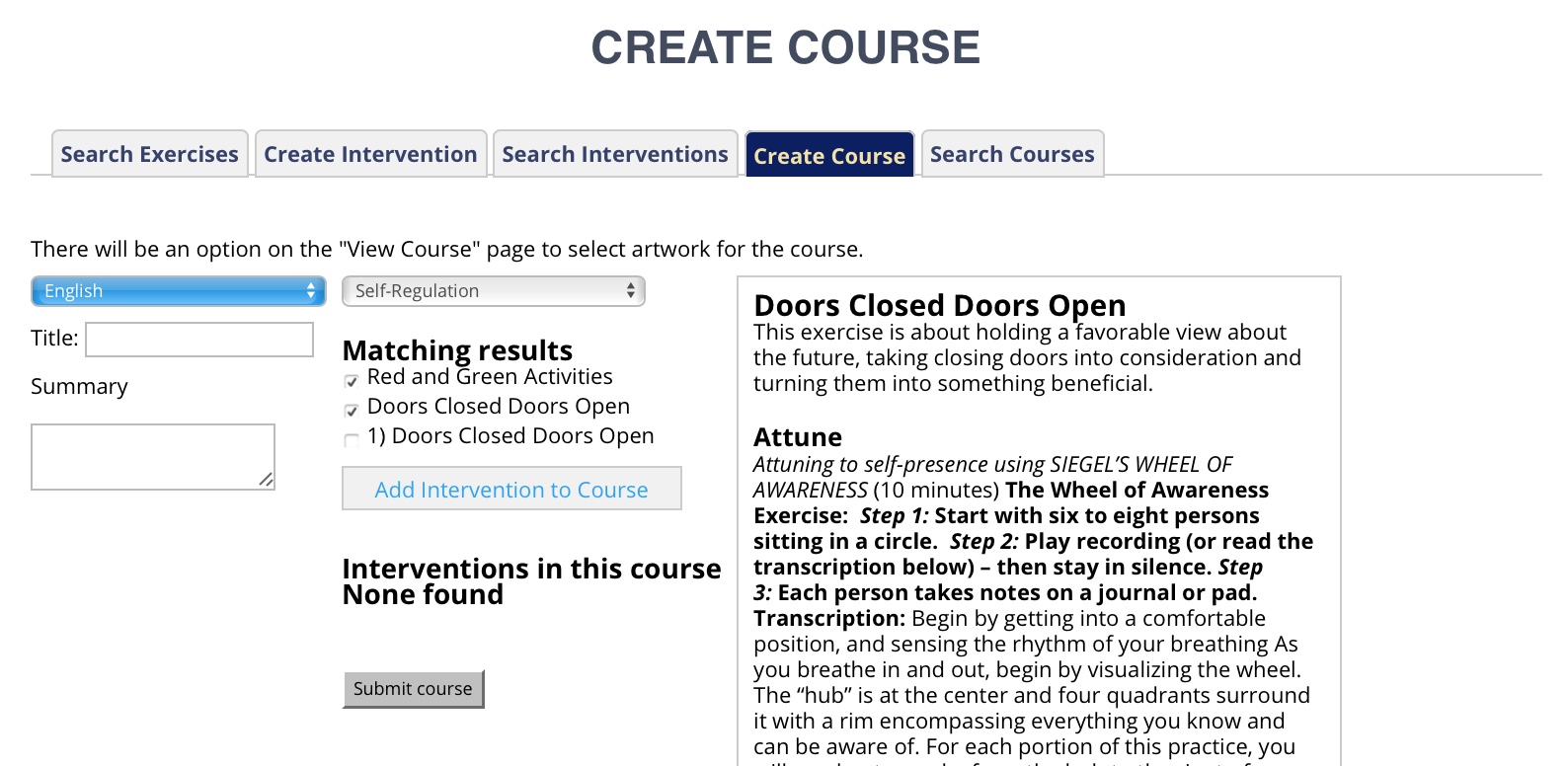 Slide
Users can rearrange the order of the interventions or delete added interventions by clicking the red "x". To finish creating a course click the "Submit Course" button.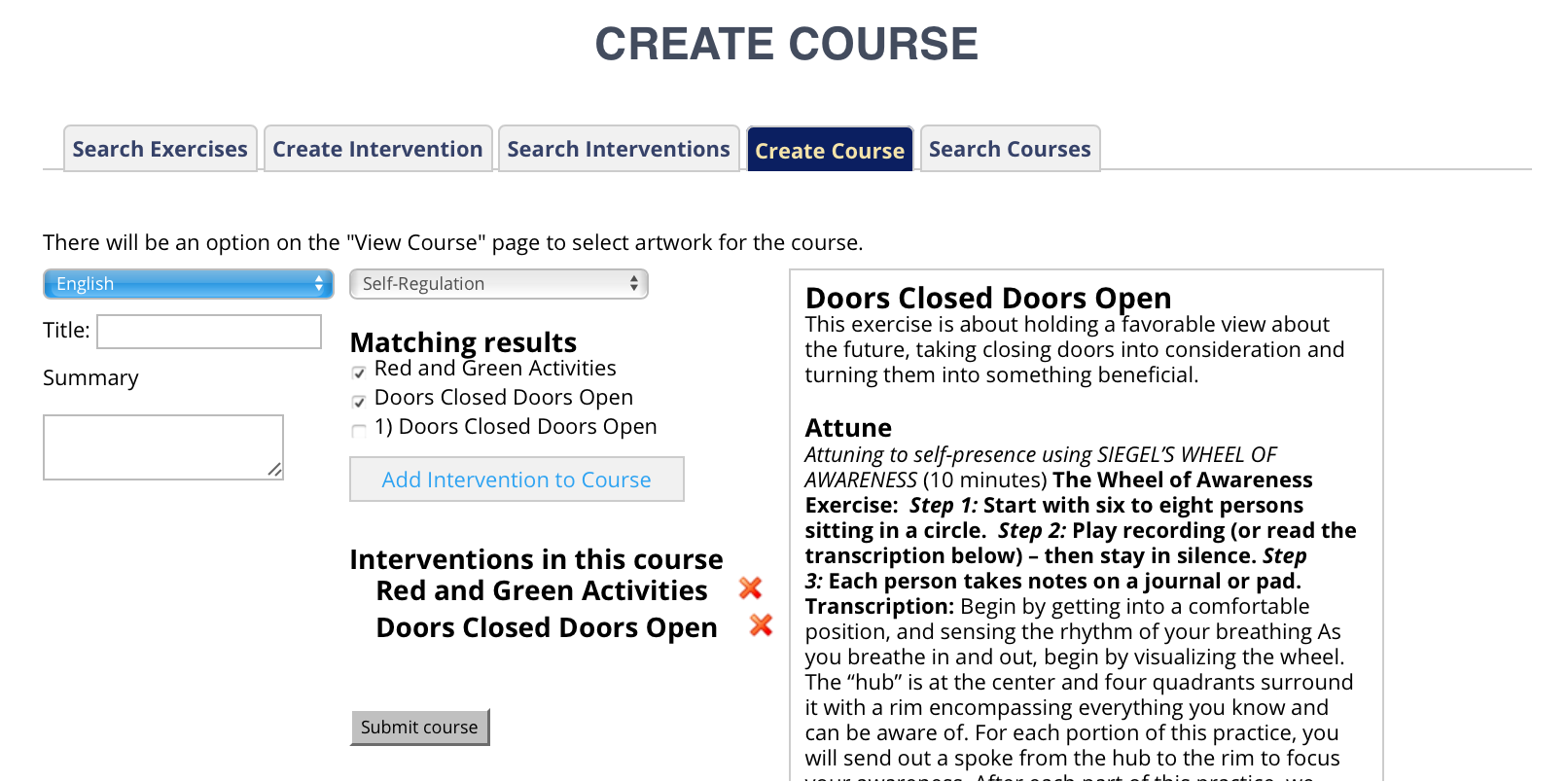 Slide
Course searches are filtered by Topics and Language.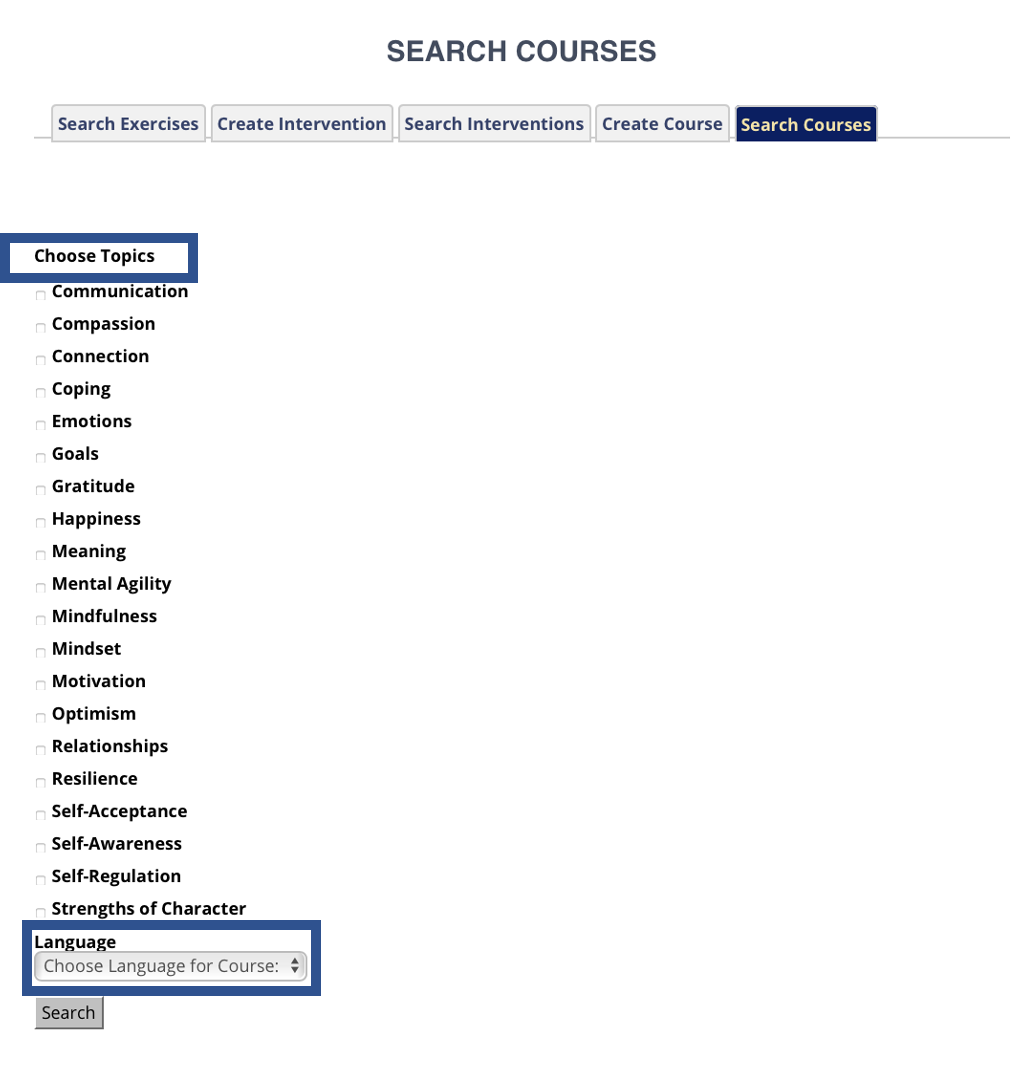 Slide
This is an example of a Course Search Results.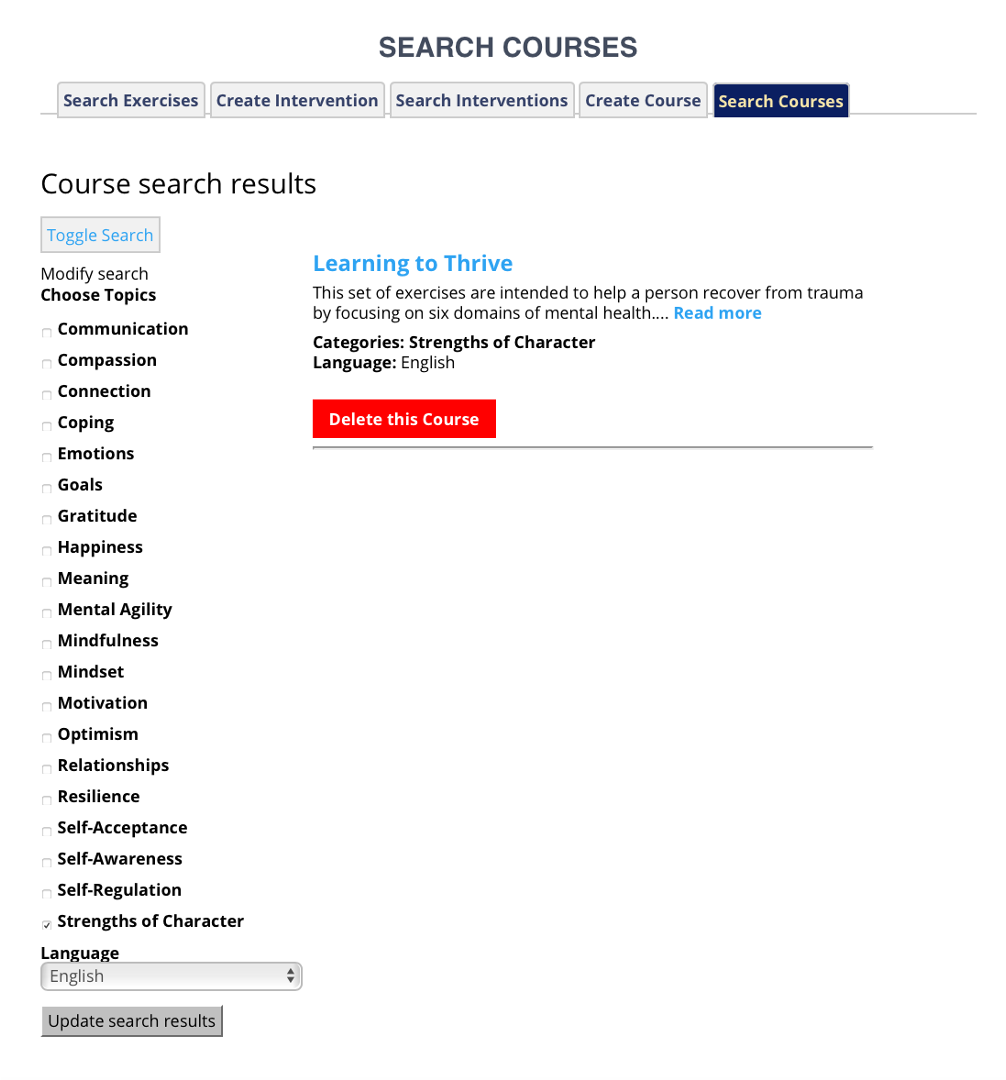 Slide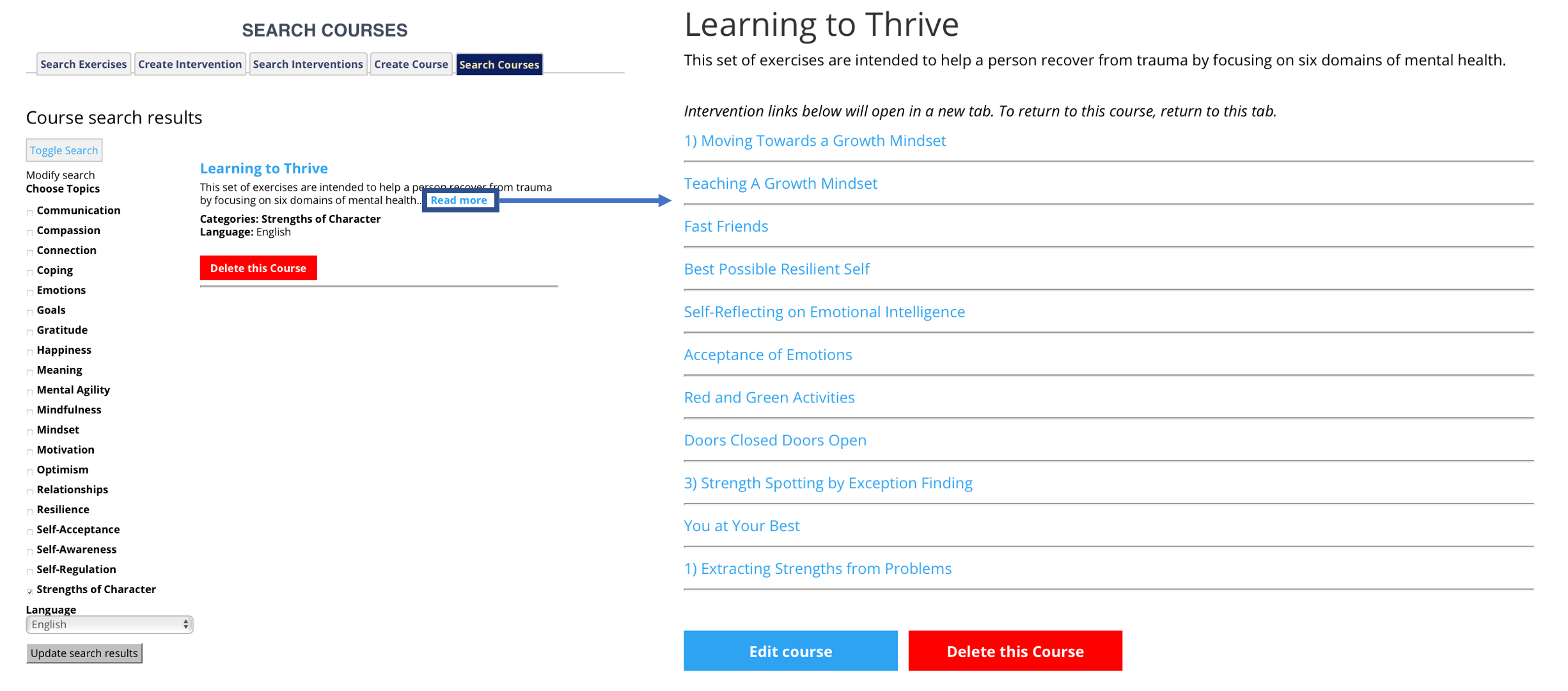 Clicking "Read More" opens up a list of the Course's Interventions.